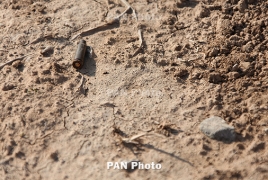 October 1, 2022 - 12:01 AMT
PanARMENIAN.Net - Armenia has not been able to evacuate all the bodies of soldiers killed in Azerbaijan's recent aggression in mid-September,deputy head of the Army General Staff Arakel Martikian told foreign ambassadors in Vardenis, Gegharkunik province on Thursday, September 29, Hetq.am reports.
"Today we know how many bodies we have, and that is our sore spot," Martikyan said, adding that the humanitarian truce, which provides for the evacuation of remains and the wounded, has not happened.
"Every time we try to get closer to retrieve the bodies, we are met with heavy enemy fire."
The Deputy Chief of Staff said this was Azerbaijan's third aggression against the peaceful settlements of Armenia since 2020 the ceasefire in Nagorno Karabakh, which according to him, sought to make residents of those communities leave their homes.
Martikyan said Armenia suffered the biggest territorial losses near the town of Jermuk, Vayots Dzor province, as well as lost "several" military positions in Gegharkunik. In said positions, he added, the Armenian soldiers fought till the end, while those killed or seriously wounded were treated by the enemy in the most brutal manner.
The latest round of fighting between the two countries began in the wee hours of September 13, when the Azerbaijani military attacked Armenian posts and shelled Armenian settlements both on the border and deep behind the frontline. More than 200 people are dead or missing as a result, the Security Council of Armenia said on Monday.