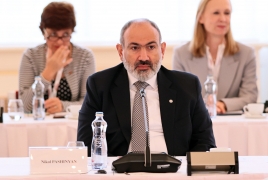 October 7, 2022 - 15:27 AMT
PanARMENIAN.Net - Prime Minister Nikol Pashinyan said on Friday, October 7 that Azerbaijan has not responded positively to his proposal to unblock all regional communications.
"In Prague I reconfirmed again our proposal on unblocking of all regional communications. Azerbaijan again did not respond positively," Pashinyan said on the sidelines of the first meeting of the European Political Community.
"I reiterate, Armenia is ready for unblocking all regional communications with full respect of our sovereignty and legislation."
The Azerbaijani side has on multiple occasions spoken about a so-called "corridor" through the southern Armenian province of Syunik that would connect Nakhijevan to the rest of Azerbaijan. The Armenian side, however, has repeatedly denied being involved in negotiations for the provision of a corridor to Azerbaijan, stressing that they have only agreed to unblock transport communications in the region.