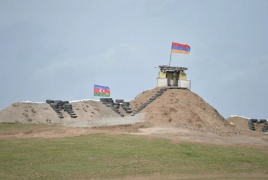 October 7, 2022 - 16:36 AMT
PanARMENIAN.Net - The United States has called on Azerbaijan to pull back forces to their initial positions prior to their aggression against Armenia on the night of September 12.
In a statement on Thursday, October 6, the U.S. Permanent Representative to the OSCE, Ambassador Michael Carpenter said that the recent violations of the ceasefire on September 13 and 14, and again on September 28, are of grave concern to the United States.
"The United States encourages Armenia and Azerbaijan to strictly adhere to a sustainable ceasefire, pull back and distance their armed forces, and continue negotiations on border delimitation to support a peaceful resolution," Carpenter said in his statement addressed to the Permanent Council.
"We reiterate our call on Azerbaijan's forces to return to their initial positions prior to the outbreak of hostilities on the night of September 12. Border disputes must be resolved through negotiations, not violence. The deaths of Armenian soldiers and Azerbaijani civilians from landmines during the past week clearly and tragically demonstrate the ongoing human consequences of this conflict."
Carpenter also said that the United States strongly supports the activation of the OSCE's confidence-building and conflict prevention instruments, including the establishment of a Fact Finding Mission, as has been requested by Armenia.
The latest round of fighting between the two countries began in the wee hours of September 13, when the Azerbaijani military attacked Armenian posts and shelled Armenian settlements both on the border and deep behind the frontline. More than 200 people are dead or missing as a result, the Security Council of Armenia said on Monday.