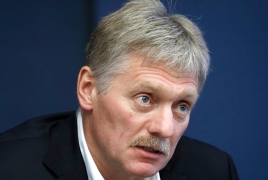 November 24, 2022 - 11:26 AMT
PanARMENIAN.Net - The leaders of the CSTO countries discussed the peace treaty between Armenia and Azerbaijan during a meeting in Yerevan on Wednesday, November 24, Kremlin spokesperson Dmitry Peskov said.
"This topic was discussed very frankly, very directly, constructively. Not everything has yet been agreed upon, there are certain nuances," he told reporters on Wednesday following the organization's summit in Yerevan, TASS reports.
He noted that "this topic is on the agenda."
Russia will continue to play its role in the process of the Armenian-Azerbaijani settlement and mediate the process, Peskov said. "We, as the Russian side, welcome all possible efforts that will lead to this settlement," Peskov said when asked about the possibility of concluding a peace treaty between Azerbaijan and Armenia.
"Russia continues to play a very important role. All Russia's proposals have been noted by the parties. I mean both Yerevan and Baku. We will continue to provide our services to the extent that these services will be needed by the countries," he added.
All parties should make every effort to ensure that Armenia and Azerbaijan come to a peace treaty, Peskov said. "It is very important that Armenia and Azerbaijan agree on a peace treaty. This is the main task. And we must all make every effort, without competing, so that this task is completed: to help the two countries sign a peace treaty," he stressed.
The Kremlin spokesperson stressed that the peace treaty depends on a great number of details and nuances, which will still need to be negotiated.
"No one is trying to time the signing of such a complex treaty to any specific dates," Peskov said in response to a question whether such an agreement could be signed before the end of the year. "The main thing is that it be signed, the main thing is that it be a stable and viable document."