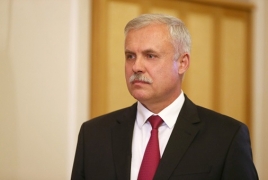 December 6, 2022 - 15:18 AMT
PanARMENIAN.Net - The draft decision of the CSTO Council on measures to provide assistance to Armenia needs to be signed, this is important for Yerevan, CSTO Secretary General Stanislav Zas said on Monday, December 5 at a meeting of the Parliamentary Assembly of the organization in Moscow.
"On behalf of the heads of state, a monitoring mission headed by the Secretary General and the Chief of the Operational Headquarters of our organization worked out in Armenia. As a result of this work, a draft decision of the Collective Security Council on joint measures to provide assistance to the Republic of Armenia was prepared, which was discussed at the session of the Council on November 23. Due to the different positions of the CSTO states, it was not possible to adopt this project," Zas noted.
"I hope that after a certain revision we will come to the signing of this draft decision and the adoption of these measures. I am sure that this is necessary, including for Armenia."
Zas stressed that the situation on the Armenian-Azerbaijani border remains "difficult". According to him, despite the differing assessments of the CSTO member countries of the situation in the region, all states agree that in the current conditions Armenia faces risks and threats. "Therefore, a set of measures to provide assistance to Armenia was developed – six points that were approved by all states, a rather weighty package of measures," the organization's secretary general explained.
"This includes additional political and diplomatic work to ensure the territorial integrity of Armenia, the extension of the monitoring mission for an additional two months, which would deploy its working groups along the border in difficult areas, and this would allow us to quickly take the necessary measures if necessary. This is the provision of military-technical assistance."
On November 23, the CSTO summit was held in Yerevan, during which Prime Minister of Armenia Nikol Pashinyan did not sign the draft declaration. Pashinyan explained this by the incompleteness of the declaration, the lack of a "clear political assessment of the situation" in it. At the same time, he called the negotiations held within the CSTO Council "fair, positive and open."