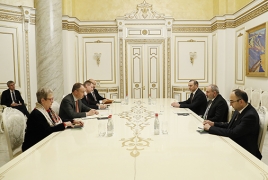 January 24, 2023 - 15:47 AMT
PanARMENIAN.Net - Prime Minister Nikol Pashinyan on Tuesday, January 24 met with Toivo Klaar, EU Special Representative for the South Caucasus and the Crisis in Georgia. The meeting was also attended by the Head of the Delegation of the European Union to Armenia, Ambassador Andrea Wiktorin.
The sides discussed the situation in the region, as well as issues related to Armenia-EU cooperation.
The decision on the deployment of the new civilian mission of the European Union on the Armenian-Azerbaijani border was highlighted. The presence of the mission is expected to contribute to stability and security in the region. Reference was also made to the humanitarian crisis in Nagorno-Karabakh caused by the blocking of the Lachin Corridor.
Pashinyan emphasized that as a result of this, the situation in Nagorno-Karabakh is aggravating day by day, schools and kindergartens are not operating, healthcare institutions suffer a severe shortage of medicine and are facing serious problems. Besides, gas supply to Nagorno Karabakh has been suspended by Azerbaijan, there is also a problem of electricity supply. Emphasizing the targetted response of the international community to the created situation, Nikol Pashinyan emphasized with pleasure the fact of the resolutions recently adopted by the European Parliament.
Klaar expressed concern over the blocking of the Lachin Corridor and stressed the need for the uninterrupted operation of the corridor. He noted that the EU is interested in ensuring stability and peace in the region and will continue to contribute to the solution of this problem.
The parties exchanged thoughts on the deployment process of the new civilian mission of the European Union, as well as on the course of the Armenia-EU joint programs in the direction of the institutional reforms implemented in the Republic of Armenia.
Since December 12, the sole road connecting Nagorno Karabakh to Armenia - the Lachin Corridor - has been blocked by self-described Azerbaijani environmentalists. Karabakh residents have reported food and fuel shortages, while hospital patients don't have access to essential medicines, with only a handful allowed transfer to facilities in Armenia proper.