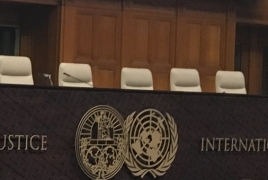 January 25, 2023 - 12:07 AMT
PanARMENIAN.Net - Armenia has filed a Memorial with the International Court of Justice (ICJ), commonly known as the UN court, in the case concerning the interpretation and application of the International Convention on the Elimination of All Forms of Racial Discrimination (ICERD) against Azerbaijan, Representative of Armenia on International Legal Matters Yeghishe Kirakosyan said on social media Tuesday, January 24.
"On 23 January 2023, Armenia filed its Memorial at the ICJ in the case concerning the interpretation and application of the ICERD against Azerbaijan, which provides detailed accounts of decades-long grave violations of the ICERD by Azerbaijan," Kirakosyan tweeted.
The ICJ will hold hearings on the matter on January 30.
Armenia has applied to the Hague Court with a request to apply interim measures and oblige Azerbaijan to stop organizing and supporting the alleged "demonstrations" that have blocked free movement in both directions through the Lachin corridor. In addition, Armenia has asked the court to oblige Azerbaijan to ensure the unhindered free movement of all people, vehicles and goods along the Lachin corridor in both directions.
Since December 12, the sole road connecting Nagorno Karabakh to Armenia - the Lachin Corridor - has been blocked by self-described Azerbaijani environmentalists. Karabakh residents have reported food and fuel shortages, while hospital patients don't have access to essential medicines, with only a handful allowed transfer to facilities in Armenia proper.