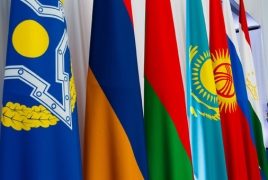 January 25, 2023 - 14:57 AMT
PanARMENIAN.Net - The Collective Security Treaty Organization (CSTO) continues to work on a monitoring mission to send to Armenia's border with Azerbaijan, RBC reported on January 24 citing the press secretary of the CSTO Vladimir Zaynetdinov.
The CSTO includes Armenia, Belarus, Russia, Kazakhstan, Kyrgyzstan and Tajikistan.
According to him, after the Armenian Prime Minister Nikol Pashinyan submitted such a request to the CSTO, the Collective Security Council unveiled a draft decision "On joint measures to provide assistance to the Republic of Armenia."
"In addition to providing other forms of support to Yerevan," this involves sending a temporary CSTO monitoring mission to the Armenian-Azerbaijani border and determines the size and mandate of such a mission. The draft "is in a high degree of readiness, but it was not possible to adopt this document at the last session of the CSTO CSC." "Work on it continues. Upon completion of the approval procedure, the project will be submitted for consideration by the statutory bodies of the organization," Zainetdinov noted, stating that it is premature to name specific figures on the number and timing.
The European Union, meanwhile, has decided to establish another civilian Mission in Armenia to "contribute to stability, build confidence and ensure an environment conducive to normalisation efforts between Armenia and Azerbaijan."
"It launches a new phase in our South Caucasus engagement, towards sustainable peace," said Josep Borrell Fontelles, High Representative of the European Unon for Foreign Affairs and Security Policy.
Based on the agreement between the leaders of Armenia, Azerbaijan, European Council and France, the EUMCAP was deployed on 20 October along the Armenian side of the international border with Azerbaijan with the objective of monitoring, analysing and reporting on the situation on the ground. That mission completed its mandate two months later on December 19.