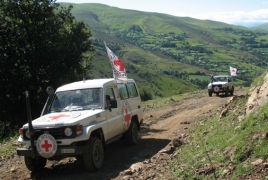 January 27, 2023 - 13:30 AMT
PanARMENIAN.Net - Three more patients have been transferred from Nagorno-Karabakh to Armenia with the assistance of the International Committee of the Red Cross (ICRC).
The government of Artsakh says 9 children are in the neonatal and intensive care units of the children's hospital, while 16 adult patients are in the intensive care unit, 6 of them in critical condition.
49 patients have been transferred so far from Artsakh to Armenia to receive necessary medical care with the mediation and accompaniment of the International Committee of the Red Cross.
More than 17,200 tons of vital supplies, which would have been delivered during the period of the blockade, have not reached Artsakh. Only a meager amount has since been delivered by the ICRC and the Russian peacekeeping forces.
Since December 12, the sole road connecting Nagorno Karabakh to Armenia - the Lachin Corridor - has been blocked by self-described Azerbaijani environmentalists. Karabakh residents have reported food and fuel shortages, while hospital patients don't have access to essential medicines, with only a handful allowed transfer to facilities in Armenia proper.