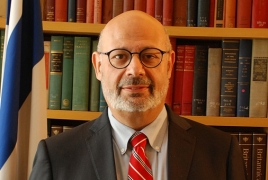 February 2, 2023 - 13:40 AMT
PanARMENIAN.Net - The attacks on the Armenian patriarchate of Jerusalem and a string of other acts of aggression were carried out by a "handful of extremists who in no way represent the pluralistic and diverse Israeli society"," Israel's ambassador to Armenia Joel Lion said Wednesday, February 1.
"The State of Israeli is committed to freedom of religion and worship for all religions," he wrote on Twitter.
Israeli extremists on January 29 attacked the headquarters of the Armenian Patriarchate in Jerusalem and climbed the Patriarchate's walls to remove its flag, Fr. Aghan Gogchean has revealed.
On other occasions, extremist groups wrote racist graffiti on the walls of the Patriarchate and attacked on a monk in the Church of the Holy Sepulchre.
The attack comes amid a string of similar acts of aggression against the Armenian community in Jerusalem.