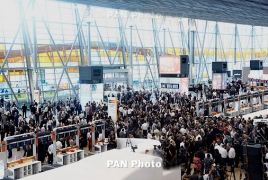 February 4, 2023 - 14:02 AMT
PanARMENIAN.Net - Residents of Russia traveled abroad 24.3 million times in 2022, including 842,793 times to Armenia, Novaya Gazeta Europe reports, citing data from the Russian FSB.
In 2021, Russians made 477,881 trips to Armenia.
Russian nationals beat a five-year record for entry into a number of countries, crossing the border on the way out 24.3 million times in total last year – 2.9 million times more than in 2021.
Russians left their country for neighboring states and CIS countries 8.4 million times – 4.7 million times more than in 2021 when there was Covid-19.
The influx of Russians was record high in five years in Armenia, Kyrgyzstan, Uzbekistan, Tajikistan, and Mongolia.
This growth does not mean millions of Russians left the country permanently. Some of them often return, and some might have crossed the border multiple times. However, populationists Yulia Florinskaya and Alexey Raksha estimated last year's emigration wave to stand between 400,000 and 800,000 people.
Over 100,000 opted to stay in Georgia, and at least 100,000 more in Kazakhstan. A total of 50,000–100,000 people left for Serbia, and around 40,000 for Armenia. Israel, Kyrgyzstan, and the EU welcomed around 35,000 Russians each, they say.