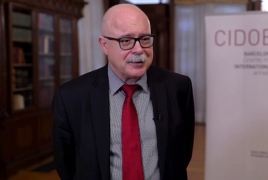 February 4, 2023 - 16:19 AMT
PanARMENIAN.Net - Member of Russia's Foreign and Defence Policy Council, former director of the Carnegie Moscow Center Dmitri Trenin believes that in the South Caucasus, much depends on the outcome of the conflict in Ukraine.
Trenin is participating in the international round table on "Armenia and the global confrontation between Russia and the West: Results of 2022".
According to him, it is difficult to foresee the future but the conflict between Russia and the West will drag on for 1.5-2 decades, and possibly longer, until the parties agree on new norms, which he said is impossible to say.
According to Trenin, in Eurasia, as well as in the South Caucasus, much depends on the outcome of the conflict in Ukraine. If Russia wins – which he personally expects, since Russia has the resources and the will to win – the situation in Eurasia will be more stable, new opportunities will be created for Russia to act as a system-forming power that ensures order in a significant part of Eurasia.
"If this does not happen, contrary to my expectations, then new conflicts await us," he said.
He noted that Armenia is a sovereign state that decides for itself which way to choose: "Armenia is an ally, Armenia is a partner in Eurasian integration, but we in Moscow, of course, pay attention to those differences of opinion that we also feel. There is a desire to turn to other possible allies, potential partners.
"There is nothing unusual or reprehensible in this. But it is very important to make a decision. Every choice comes with a price. We see this today in the example of many post-Soviet states. I think we will closely follow what is happening in Armenia. First of all, of course, we will have in mind the national interests of Russia, but we must understand that Russia is not the Soviet Union, Russia is not the Russian Empire, and is not going to restore either the Union or the Empire. And Russian behavior will be different than the behavior of the Soviet Union or the Empire in the past. And the significance of some regions today is different than it was 150 years or 50 years ago. All this must be taken into account
Trenin added that he believes that Russia and Armenia will understand each other perfectly and make as few mistakes as possible.