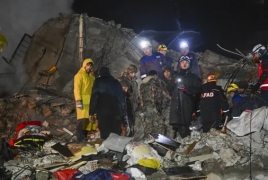 February 7, 2023 - 12:07 AMT
PanARMENIAN.Net - International rescue missions have rushed to Turkey and Syria after one of the most powerful earthquakes to hit the region in at least a century left more than 4,800 people dead, thousands injured and an unknown number trapped in the rubble. The early-morning quake and dozens of aftershocks brought down entire apartment blocks in Turkey and heaped more destruction on Syrian communities already devastated by over a decade of war, The Guardian reveals.
At least 3,381 people were confirmed dead in Turkey, according to the Anadolu news organisation, which cited the Disaster and Emergency Management Authority. With the highest death toll coming from Syria, the most recent figure for which is 1,444, that brings the total toll to 4,825. The WHO has warned the number of dead could rise to more than four times this figure, or about 20,000, in the coming days.
The first quake struck as people slept and measured magnitude 7.8, making it one of the most powerful in the region in at least a century. It was felt as far away as Cyprus and Cairo. The European Mediterranean Seismological Centre (EMSC) said preliminary data showed the second large quake measured 7.7 magnitude and was centred 67km (42 miles) north-east of Kahramanmaraş, Turkey, at a depth of 2km.
More than 7,800 people have been rescued across 10 provinces, according to Orhan Tatar, an official with Turkey's disaster management authority.
As of 6am, early 13,000 rescue workers, many of them volunteers, had left Istanbul to help in impacted areas, according to the news organisation Sabah, which cites the governor of Istanbul. Many are bound for Hatay, where, according to reports, there is growing anger at the lack of assistance for people trapped under the rubble.
Syrian opposition said 'hundreds of families' are still trapped under rubble. Time is running out to save hundreds of families still trapped under the rubble of destroyed buildings after this week's devastating earthquake, the head of the Syrian opposition-run civil defence service said on Tuesday.
In 1999, when a quake of similar magnitude hit the heavily populated eastern Marmara Sea region near Istanbul, it killed more than 17,000 people.
The death toll could rise to more than 20,000 people, said Catherine Smallwood, the World Health Organization's senior emergency officer for Europe. "There's continued potential of further collapses to happen so we do often see in the order of eightfold increases on the initial numbers," she told AFP, speaking when the estimated toll stood at 2,600. "We always see the same thing with earthquakes, unfortunately, which is that the initial reports of the numbers of people who have died or who have been injured will increase quite significantly in the week that follows."
Joe Biden spoke with the Turkish president, Recep Tayyip Erdoğan, on Monday to offer condolences and reaffirm Washington's readiness to assist in rescue efforts, the White House said. The US president "noted that US teams are deploying quickly to support Turkish search and rescue efforts and coordinate other assistance that may be required by people affected by the earthquakes, including health services or basic relief items", said a White House statement.