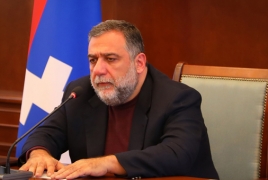 February 23, 2023 - 17:06 AMT
PanARMENIAN.Net - President of Nagorno Karabakh (Artsakh) Arayik Harutyunyan has dismissed Ruben Vardanyan from the position of State Minister.
Harutyunyan chaired a Cabinet meeting on Thursday, February 23 and published the decree, noting that he appreciates Vardanyan's efforts both in raising international awareness of Artsakh and solving numerous domestic problems during the blockade.
"Ruben Vardanyan and I have been together during this whole time, following the events and developments happening both in Artsakh and in the outer world on a daily basis, we have constantly exchanged ideas about finding solutions to the current situation. I am grateful to Mr. Vardanyan for his eagerness to always share the responsibility with me to the maximum extent in both friendly and partnership relations and did not try to put it on me referring to the constitutional norms. But on the other hand, he approached with awareness and understanding to the scope and extent of my personal responsibility for the situation created in Artsakh and all future problems," Harutyunyan said.
Arayik Harutyunyan noted that he proposed Prosecutor General Gurgen Nersisyan to assume the responsibilities of the State Minister.
Azerbaijan had on numerous occasions demanded Vardanyan's dismissal which comes on the heels of an ICJ ruling ordering Azerbaijan to unblock the Lachin corridor.
Since December 12, the sole road connecting Nagorno Karabakh to Armenia - the Lachin Corridor - has been blocked by self-described Azerbaijani environmentalists. Karabakh residents have reported food and fuel shortages, while hospital patients don't have access to essential medicines, with only a handful allowed transfer to facilities in Armenia proper.