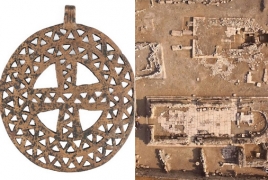 March 3, 2023 - 11:54 AMT
PanARMENIAN.Net - The Armenian Museum of America and the History Museum of Armenia have organized a virtual exhibition entitled, "Treasures of Artsakh: A Virtual Exhibition from 16 Armenian Museums," Asbarez reports.
The two museums are dedicated to the preservation, study, and promotion of the heritage of the Armenian people. This mission includes the presentation of the historical and cultural wealth of Artsakh (Nagorno Karabakh).
The purpose of this online exhibition — jointly organized by the AMA and HMA — is to showcase the spiritual and material heritage of Artsakh during the ancient, medieval, and modern periods, spanning millennia of Armenian history. The virtual format combines collections to reflect the ethnocultural richness of Artsakh.
The exhibition includes four parts: Part I: Artsakh, An Early Human Habitat from the Paleolithic to Iron Age; Part II: Tigranakert, One of the Cities of Tigran the Great; Part III: Relics of Artsakh (Artsakh in the Middle Ages); and Part IV: Artsakh in the 19th-21st Centuries.
This collaboration brings together artifacts from the collections of 16 Armenian museums around the world. Over the centuries these historical artifacts have been created as eloquent testimonies of the spiritual values preserved in tangible form and serve an important role in the preservation and study of Armenian culture.