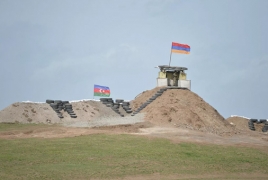 March 31, 2023 - 12:55 AMT
PanARMENIAN.Net - The Azerbaijani military has violated bilateral agreements and deployed troops in new positions near the Armenian village of Tegh on March 29 – at least two days ahead of the agreed time. The distance between the Armenian and Azerbaijani positions is 15 meters now, Hetq reports.
According to the bilateral agreement between Armenia and Azerbaijan, the sides should have started setting up new positions between the villages of Tegh and Aghavno on April 1, but the Azerbaijani side occupied favorable positions and started engineering works beginning from March 29 night.
On March 30, the Armenian armed forces were deployed in new positions and started engineering works parallel to the Azerbaijani positions, according to one local resident involved in the engineering works.
"We are on one side of the road, the Azerbaijanis are on the other side, equipment has been brought to both sides, construction works are underway, the positions are 10-15 meters away from each other," said the villager.
The Armenian National Security Service issued a statement on March 30 regarding the deployment of Azerbaijani military forces between the villages of Aghavno and Tegh, noting that the Azerbaijanis have been stationed 100-300 m beyond the border due to "misreadings of the maps".