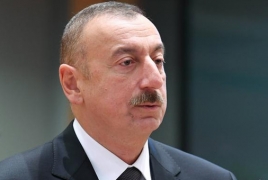 April 19, 2023 - 11:56 AMT
PanARMENIAN.Net - Former Artsakh (Nagorno Karabakh) State Minister, public figure Ruben Vardanyan has responded to the latest ultimatums of Azerbaijani President Ilham Aliyev.
Aliyev said earlier that "all residents of Nagorno-Karabakh will have to make a choice: either accept Azerbaijani citizenship or look for another place to live."
"I thought that Mr. Aliyev had good advisers, but as you can see from these statements, they are completely useless. I would recommend that he fire them, because the more such rhetoric sounds, the more formidable it is and the tougher it is, the more likely it is that sooner or later Mr. Aliyev will be forced to appear before the Hague Court, an international tribunal," Vardanyan told Business FM.
He noted that he can't imagine how the Azerbaijani state will be able to evict 120,000 Armenians from their homeland.
"In any case, it will be a crime against humanity. The more pressure is put on the people of Artsakh, the stronger they unite and become close to each other. In this sense, it seems to me, the road is taking to nowhere," Vardanyan said.
He reiterated that the only way is the way of normal negotiations, where Azerbaijan should recognize the state of Artsakh, the elected leaders of Artsakh.