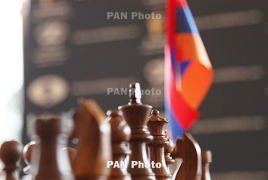 May 1, 2023 - 14:45 AMT
PanARMENIAN.Net - Grandmasters Gabriel Sargissian, Haik M. Martirosyan and Hrant Melkumyan – all of them representing Armenia – have made it to FIDE's latest rating of top 100 chess players of the world.
Levon Aronian, who until recently represented Armenia before moving to the U.S. in late 2021, has taken the 11 spot, while the ranking is topped by Magnus Carlsen.
The winner of the 2021 European Women's Chess Championship, Elina Danielian is included in the women's list, as are Anna M. Sargsyan, Lilit Mkrtchia and Mariam Mkrtchyan.
Armenia's Emin Ohanyan and Mamikon Gharibyan are among the top 100 players in the junior category, while Mariam Mkrtchyan has made it to the girls' rankings as well.