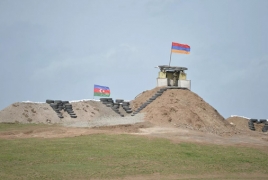 May 6, 2023 - 15:13 AMT
PanARMENIAN.Net - Armenian Prime Minister Nikol Pashinian still sees a "huge difference" in the wording of a draft peace agreement between Armenia and Azerbaijan and the two sides' positions despite reported progress in bilateral talks hosted by the United States this week.
Pashinian, in an exclusive interview with RFE/RL's Armenian Service on May 5, said that the key differences concern not only Nagorno-Karabakh but also territorial and security guarantees.
"We are still unable to reach agreement in the draft peace agreement on the wording that will give us confidence that Azerbaijan recognizes 29,800 square kilometers of Armenia" within its Soviet-era borders, he said.
Pashinian also highlighted the need for guarantees as "any agreement, even the most unambiguously written one, allows for interpretations."
Pashinian, who spoke with RFE/RL while on a two-day official visit to Prague, referred to the draft bilateral Agreement on Peace and Establishment of Interstate Relations that was discussed by Armenian Foreign Minister Ararat Mirzoyan and his Azerbaijani counterpart, Jeyhun Bayramov, during the U.S.-sponsored talks.
A joint statement issued on May 4 at the conclusion of the talks said Mirzoyan and Bayramov and their teams "made progress in mutual understanding on some articles of the draft bilateral peace agreement" but noted that positions on a number of key issues remain different.
Despite U.S. Secretary of State Antony Blinken's optimism that "with additional goodwill, flexibility, and compromise, an agreement is within reach," Pashinian assessed the progress as minimal.
"While the difference between the sides was 1 kilometer before, now it is 999 meters. It is also progress, but there is still a huge gap," he said in the interview with RFE/RL.
Pashinian reiterated Armenia's position that the issue of the rights and security of Nagorno-Karabakh's Armenians should be discussed in a dialogue between Baku and Stepanakert with international engagement.
"Otherwise, this topic and agenda can simply be forgotten by Azerbaijan," he said.
He also said that both international and local mechanisms should be applied to such matters as the withdrawal of troops and the establishment of a demilitarized zone. In addition, there are different interpretations in Yerevan and Baku on how to address the rights of Nagorno-Karabakh's Armenians.
Pashinian said that the discussion that started in Washington can continue in Moscow, denying claims that there are "Western" and "Russian" drafts that differ from each other.
"Sometimes I read articles, listen to interviews as I want to understand what people are talking about. If I weren't prime minister, I would have thought that there was something I didn't know," said Pashinian.
He said that while there have been some approaches from the West, they have not been presented as an option in writing.
"An approach is verbal. Perhaps if we put it down and read on paper, it may turn out that we understood this approach wrong, that it is not what it looked like. In August 2022, the Russian side submitted a written proposal, we accepted it, Azerbaijan rejected it. We haven't seen Russia putting that option on the table for a second time," Pashinian said.
Tensions along the restive Armenian-Azerbaijani border and around Nagorno-Karabakh leading to sporadic fighting and loss of life have persisted despite the cease-fire and the presence of Russian troops.
They flared anew last month when Azerbaijan installed a road checkpoint at the start of the Lachin Corridor, the only route linking Armenia to Nagorno-Karabakh.
Armenia says the checkpoint, set up on April 23, is a violation of the ceasefire agreement. Azerbaijan insists it established it in response to what it says were Armenian military supplies to Nagorno-Karabakh. Armenia denies that accusation.