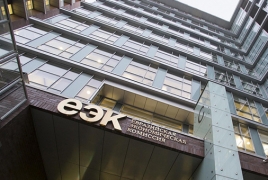 May 13, 2023 - 12:39 AMT
PanARMENIAN.Net - Member of the Board (Minister) for Trade of the Eurasian Economic Commission (EEC) Andrei Slepnev believes it is highly likely that a free trade zone between the Eurasian Economic Union (EAEU) and Iran will be established by the end of 2023, BelTA reports.
"We have completed substantive discussions of all the provisions of the agreement with Iran. We are now fine-tuning the document, we hope that we will finish this work within this month. We plan to inform the prime ministers about the results in Sochi at the beginning of next month. After that, there will be some formal procedures. I think that there is a very high probability that we will sign an agreement with Iran this year," Slepnev told a briefing on Friday, May 12.
Speaking about the effects of the creation of a free trade zone with Iran, the EEC minister noted: "This is a very serious partner, a large country. We can say that we are Iran's first big partner when it comes to free trade, as this country has fairly high barriers to enter its market. We appreciate that Iranian partners offered us unprecedented terms to enter their market and we will make the most of it. The temporary agreement (the free trade agreement signed between the EAEU and Iran in 2018) was really local, as it covered few commodities and did not provide for zero duty rates. Nevertheless, it helped to nearly double the trade. We expect that after the new agreement is signed, our trade will increase from the current $6 billion to $20 billion in the medium term of 5-7 years. This figure is absolutely achievable," he said.
Slepnev added that work is underway to create free trade zones between the EAEU and Egypt, the UAE, Indonesia and India. He specified that the negotiations with Egypt can be completed before the end of this year.
Over the past year, trade turnover between EAEU and Iran increased by 20%.