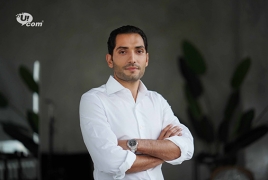 May 18, 2023 - 11:10 AMT
PanARMENIAN.Net - Chairman of the Board of Directors at Ucom CJSC Gurgen Khachatryan has published a message on World Telecommunication and Information Society Day, maintaining that the future of Armenia is undoubtedly digital and green.
"Children might perceive telecommunications as a mundane subject, involving intricate networks of slender wires, radio waves, and transmitters. However, this only scratches the surface of its vast complexities. My brother and I hold indelible memories from our school years, dashing through the corridors of the telephone exchange after school hours. This building housed a solitary, analog rack with blinking lights that occupied an entire floor. The most exhilarating aspect was undoubtedly the ability to facilitate people's conversations, albeit with the occasional misconnection and getting caught by our grandfather during our mischiefs," Khachatryan said in his message.
"Today, we mark the World Telecommunication and Information Society Day, a day that celebrates our dedicated team at Ucom, industry experts, and my 92-year-old grandfather, Gurgen. Gurgen Tadevos Khachatryan, a veteran in the field, was among the first "communicators" in Soviet Armenia to attain the highest qualification. He led the Nairi regional communication hub for an impressive 25 consecutive years and is the only person in the field with a half-century of leadership experience.
"It was my grandpa Gurgen who inspired my brother and I to delve into the world of telecommunications, to establish our own company, and ultimately, to celebrate the milestone of our 10,000th subscriber at Ucom about a decade ago. Grandfather Gurgen is the catalyst for my desire to discuss, on this World Telecommunication Day, the responsibility we bear in constructing robust, future-proof networks and passing them down to ensuing generations.
"The transition from one generation to the next, from analog to digital, has resulted in the telecommunications of today and the future being vastly different in terms of technology, bandwidth, and scalability compared to the networks of pasts, with their nostalgic "switch" memories. Modern telecommunications, as a unified service provider, seamlessly connects infrastructures, corporations, systems, and smart devices, equipping them with data and artificial intelligence capabilities. However, how prepared are Armenian businesses for these transformations? According to our data, only a minuscule percentage of entrepreneurs seem ready[1]. And what about our urban infrastructure's readiness for a mobile future[2]?
"Today, nations with a keen focus on technological adaptation are witnessing exponential growth, while countries like ours are struggling with a comparatively slow pace of progress[3]. This is not just currently inadequate, but it also poses substantial challenges for the coming decade.
"The telecommunications industry, by necessity, requires digitization of operators and infrastructure to reap the financial benefits from investments in fifth-generation networks. For developing economies[4], particularly that of Armenia, digitization is crucial to prevent further widening of the chasm in business competitiveness that runs parallel with the evolution of contemporary technologies.
"We firmly believe that cutting-edge telecommunication infrastructures will stimulate economic growth and open up novel opportunities for both seasoned and aspiring entrepreneurs. Yesterday's announcement of the next phase of the Ucom-Ericsson partnership signifies the initiation of fifth-generation technological solutions with unparalleled technological and environmental support. It also marks the advent of our new green social responsibility strategy aimed at infrastructure and environmental protection.
"As a company founded on Armenian capital and steered by Armenian experts, we understand the cost of missed opportunities and the vital mission to empower the younger generation. Consequently, we extend an invitation for collaboration to all Armenian businesses that align with this vision and have faith in the digital future of our nation. However, our commitment goes beyond this. Moving forward, all new technologies from Ucom will be equally accessible in the capital city as well as the most secluded settlements of Armenia. We perceive it as our responsibility and mission to ensure the essential green "connection" for our compatriots in their respective localities.
"Lastly, Ucom embarks on a new stage of evolution under the proficient guidance and the vast experience within the telecommunications sector of CEO Ralph Yirikian. We are confident that the new strategy will yield exemplary outcomes and build a sustainable network for both Armenian entrepreneurs and all our compatriots, regardless of their location. At Ucom, we pride ourselves on our mastery of our craft. The best is yet to come."