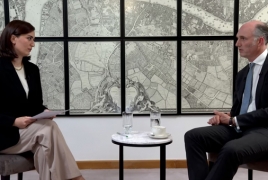 May 24, 2023 - 17:00 AMT
PanARMENIAN.Net - British Foreign Office Minister Leo Docherty believes that an Armenian-Azerbaijani peace accord could put an end to the blockade of Nagorno Karabakh.
The senior British official paid a visit to Armenia and held meetings with Prime Minister Nikol Pashinyan and Foreign Minister Ararat Mirzoyan and praised Pashinian's efforts to negotiate a peace deal with Azerbaijan as he ended a two-day visit to Yerevan on Tuesday.
"We are very encouraged by their approach in terms of their desire to see progress towards peace," Docherty told RFE/RL's Armenian Service in an interview. "We note their democratic mandate and we applaud their approach to internal reform."
"So let's hope that progress can be made," he said. "But of course it will require determination and courage from all political leaders across the region."
Armenia and Azerbaijan appear to have already made significant progress towards a bilateral peace treaty during a series of Western-mediated talks held in recent weeks.
Pashinian on Monday explicitly acknowledged his readiness to recognize Azerbaijani sovereignty over Karabakh through that treaty. His statement drew strong condemnations from Karabakh's leadership and the Armenian opposition.
Meeting with Docherty earlier on Tuesday, Pashinian again accused Azerbaijan of seeking to subject Karabakh's population to "ethnic cleansing." He pointed to Baku's five-month blockade of the region's sole land link with Armenia and the outside world.
Docherty suggested that an Armenian-Azerbaijani peace accord could put an end to the blockade.
"We have made the case to Azerbaijan to take steps that ensure that the free flow of people and goods can be fully resumed," he said. "I think our judgment is that it's through a broader settlement that progress will be made in this regard."