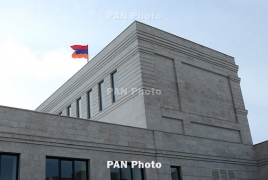 May 27, 2023 - 13:23 AMT
PanARMENIAN.Net - The Foreign Ministry has said that the signing of a peace treaty between Armenia and Azerbaijan in Chisinau is not included in the agenda, Pastinfo reports.
"Discussions on the settlement of relations between Armenia and Azerbaijan and, in particular, on the agreement "On establishment of peace and interstate relations" continue," the Foreign Ministry said in a statement.
"As we have mentioned many times, the Armenian side will be ready to sign the agreement when the key issues are addressed. We believe that discussions on them will continue during and after the meeting planned within the framework of the European Political Community in Chisinau on June 1. Signing of the said agreement is not included in the agenda of the meeting in Chisinau."
The leaders of Armenia and Azerbaijan met in Brussels on May 14 and were hosted by European Council President Charles Michel.
Michel's office announced before the meeting that Armenian Prime Minister Nikol Pashinian and Azerbaijani Aliyev will also hold follow-up talks together with French President Emmanuel Macron and German Chancellor Olaf Scholz on the sidelines of a European summit in Moldova's capital Chisinau slated for June 1.