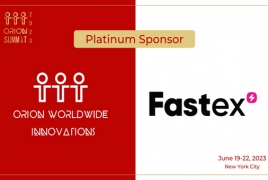 June 2, 2023 - 12:37 AMT
PanARMENIAN.Net - Fastex joins the Orion Summit 2023, which will take place on June 19-22 at the world's financial center: New York.
Fastex is a complete web3-driven ecosystem that includes Fastex Verse, Fastex Exchange, Fastex Pay, ftNFT Marketplace, and Fastex Chain (Bahamut). Fastex offers advanced technology solutions for businesses and the crypto community where Web3 solutions are available to all. Driven by innovative ideas and solutions, Fastex has created the world's first NFT phygital stores in the UAE, as well as organized large-scale events with NFT tickets. The most important achievement of the ecosystem is the creation of its own blockchain, Bahamut, which aims to provide a more stable and reliable environment in the world of digital currencies.
Vakhtang Abrahamyan, CEO of Fastex, will make a presentation on "Fastex in WEB3 and Fintech." Abrahamyan has extensive experience in executive management at the Central Bank of Armenia and in infrastructures created jointly with commercial banks. His experience includes Digital Transformation, Enterprise Risk Management, Business Contingency Planning, Procurement, Payments, Internal Audit, FinTech and other areas.
Vardan Khachatryan, Chief Legal Officer of Fastex, will join the panel discussion on "How Alternative Investments Foster the Acceleration of the Startup Ecosystem and Country Economic Growth." Khachatryan will also speak at the panel discussion "What is going on in the crypto and blockchain market?" presenting the innovative solutions of the ecosystem. Khachatryan is an esteemed legal mind in the tech world, he has more than 10 years of experience at leading law firms and tech companies. His legal education dates back to Berkeley and New York.
Summit attendees will also be introduced to Fastex's success and impact on innovation, as well as Fastex Chain, an EVM-based public blockchain solution for IT, finance, and supply chain management.
Fastex is the Platinum Sponsor of Orion Summit 2023. Fastex constantly supports forward-looking technological initiatives and events. Orion Summit 2023 is not an exception.
More than 40 world-class speakers will perform at the summit from leading Armenian and international companies, including financial, technological, educational and other industries.
Orion Summit 2023 will last four days. The summit will include meetings and discussions about innovations and investments, visits to the world's largest financial and technology companies, universities, venture funds, and family offices.
Orion Worldwide Innovations, is a startup growth and ecosystem acceleration hub and offers a full-service package to make companies investable and enter the US market, enhance their customer acquisition strategies, stay competitive, and protect their innovation. Orion is a U.S.-based company that was formed in 2017, with offices in New York City, U.S., and Yerevan, Armenia, though Orion partners with companies and investor networks worldwide.