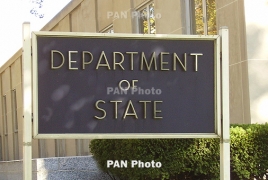 June 6, 2023 - 16:37 AMT
PanARMENIAN.Net - The United States is looking forward to hosting another round of talks in Washington later in June as the parties "continue to pursue a peaceful future for the South Caucasus region", according to Vedant Patel, the Principal Deputy Spokesperson for the U.S. Department of State.
"As you've heard me say before, direct dialogue is key to resolving issues and reaching a durable and dignified peace," Patel told a briefing on Monday, June 5.
"The U.S. is pleased that talks between Armenia and Azerbaijan are proceeding in different venues, including the recent meeting of leaders as well. But I don't have anything else to offer on that."
The Armenian Foreign Ministry on Wednesday, May 31 said the United States should adequately respond to statements coming from Azerbaijan in order to prevent the expansionist policy of the Azerbaijani leadership towards the sovereign territory of Armenia and their attempts of ethnic cleansing in Nagorno Karabakh.
The U.S. Department of State earlier welcomed Azerbaijani President Ilham Aliyev's recent remarks on "consideration of amnesty" for Karabakh officials. Aliyev recently made new threats against the people of Nagorno Karabakh (Artsakh). "Everyone is well aware that today we are capable of conducting any operation in this region (Artsakh - Ed.)," Aliyev said during a recent trip to Lachin. "Therefore, the Parliament must be dissolved, the element that calls themselves President must surrender, all ministers, deputies and others must leave their posts. Only in this case can we talk about any kind of amnesty."