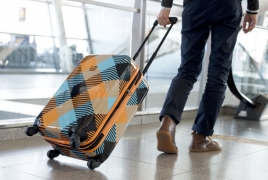 June 9, 2023 - 12:27 AMT
PanARMENIAN.Net - The departure of Russian nationals (who arrived in Armenia after Russia launched a war against Ukraine in February 2022) may result in 5-10% decline in Armenia's GDP, according to Alexei Kuznetsov, head of the Centre for Country Analysis at the Eurasian Development Bank (EDB), Arka.am reports.
Armenian Economy Minister Vahan Kerobyan said earlier that more than 110,000 Russian nationals have relocated to Armenia since 2022 February.
Speaking to reporters on the sidelines of the Eurasian Congress 2023 in Russian Sochi, Kuznetsov said neither Armenia, nor any other country had faced such a thing (relocation of thousands of foreign nationals) in the past and no one expected that it would have such an effect on economic indexes.
He added, however, that the factor of uncertainty persists because it is hard to tell now exactly what will happen if the Russians leave as quickly as they arrived.
According to him, in Armenia, other things being equal, the growth of the economy, as a whole, is estimated at 4.5%, which is 9% for two years. Now Armenia is expected to record 20% growth in the same period.
Armenia's economy grew last year by 12.6% and according to EDB's latest forecast, it will grow by 7.5% this year.
Kuznetsov also said that strengthening of the Armenian dram has resulted in loss of price competitiveness of the economy, and it's harder for exporters 'to live' in such conditions. But, on the other hand, if remittances begin to fall and the exchange rate of the dram starts weakening it will create more favorable conditions for exporters.