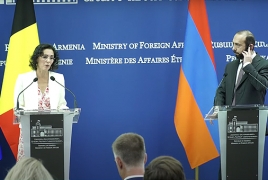 August 22, 2023 - 15:04 AMT
PanARMENIAN.Net - Belgian Foreign Minister Hadja Lahbib hopes new round of consultations between Yerevan and Baku will lead to a "historic turn" in processes taking place in South Caucasus.
Lahbib made the remarks after meeting with Armenian Foreign Minister Ararat Mirzoyan in Yerevan on Tuesday, August 22.
The Belgian Foreign Minister considers positive the agreement between Yerevan and Baku on mutual recognition of each other's sovereignty and territorial integrity.
"The latest talks have shown that the signing of a peace agreement is near. Consultations should take place first in Brussels, and then in Yerevan and Baku. We hope that they will lead to a historic turn," the minister said, assuring that the parties can count on EU assistance.
She also stated that Belgium is concerned about the aggravation of the situation in Nagorno-Karabakh, and considers negotiations and compromise to be the only way out of the situation. The diplomat went on to acknowledge the looming threat of starvation in Karabakh.
Since December 12, 2022, the sole road connecting Nagorno Karabakh to Armenia - the Lachin Corridor - has been blocked by Azerbaijan. Baku tightened the blockade on June 15, 2023, banning emergency relief supplies that were carried out by Russian peacekeepers and the International Committee of the Red Cross through the sole road connecting Karabakh to Armenia and the outside world. The move aggravated the shortages of food, medicine and other essential items experienced by the region's population. On August 15, Karabakh Human Rights Defender's office reported the first case of death from starvation.