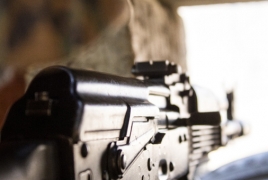 September 19, 2023 - 14:05 AMT
PanARMENIAN.Net - Azerbaijan has launched a massive shelling of Nagorno-Karabakh (Artsakh), ex-State Minister Ruven Vardanyan says.
Stepanakert, the capital of Karabakh, is being targeted too.
The Azerbaijani Foreign Ministry confirmed the attack, revealing that the Russian peacekeeping contingent deployed in Nagorno-Karabakh to help protect the Armenian population there has been notified about the assault in advance.
The Azerbaijani military earlier accused the Karabakh military of staging a provocation and planting a mine in territories controlled by Azerbaijan, which had allegedly caused the death of two civilians.
The Nagorno-Karabakh Defense Army denied the accusations on Tuesday, September 19. The Defense Army has been denying various accusations from Azerbaijan from quite some time now.
Since December 12, 2022, the sole road connecting Nagorno Karabakh to Armenia - the Lachin Corridor - has been blocked by Azerbaijan. Baku tightened the blockade on June 15, 2023, banning emergency relief supplies that were carried out by Russian peacekeepers and the International Committee of the Red Cross through the sole road connecting Karabakh to Armenia and the outside world. The move aggravated the shortages of food, medicine and other essential items experienced by the region's population. On August 15, Karabakh Human Rights Defender's office reported the first case of death from starvation.