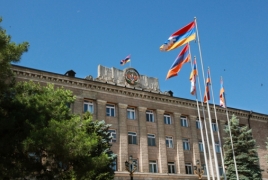 September 20, 2023 - 13:10 AMT
PanARMENIAN.Net - The authorities of Nagorno-Karabakh have agreed to all of Azerbaijan's conditions, including the dissolution of the Defense Army, according to a statement from the Karabakh President's office.
"Through the mediation of the command of the Russian peacekeeping contingent stationed in Nagorno-Karabakh, an agreement was reached on a complete cessation of hostilities from 13:00 on September 20, 2023," the statement says.
"An agreement was reached on the withdrawal of the remaining units and military personnel of the Armed Forces of the Republic of Armenia from the deployment zone of the Russian peacekeeping contingent and the disbandment and complete disarmament of the armed formations of the "Nagorno-Karabakh Defense Army" and the withdrawal of heavy equipment and weapons from the territory of Nagorno-Karabakh with the aim of their speedy disposal."
The statement added that issues raised by the Azerbaijani side on the "reintegration, ensuring the rights and security of the Armenians of Nagorno-Karabakh, as well as issues of ensuring the livelihoods of the population of Nagorno-Karabakh within the framework of the Constitution of Azerbaijan, according to the agreement reached, will be discussed at a meeting between representatives of the local Armenian population and representatives of the central authorities of the Republic of Azerbaijan, which will take place in the city of Yevlakh on September 21, 2023, as well during subsequent meetings.
"Over the course of two days of stubborn fighting, units of the Artsakh Armed Forces heroically defended themselves against an enemy who was several times superior in manpower and military equipment, inflicting heavy losses on them", the statement said, adding that the efforts of the international community towards ending the war and resolving the situation were insufficient.
Fighting in Nagorno-Karabakh (Artsakh) continued into the night and the morning of September 20 after Azerbaijan launched a fresh offensive against the Armenians of Karabakh, also targeting civilian infrastructure.
Hundreds of people have been injured, 35, including at least 13 civilians, have been killed in Azerbaijan's aggression.