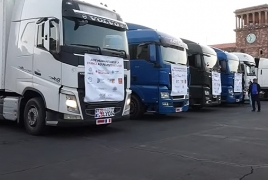 September 22, 2023 - 13:47 AMT
PanARMENIAN.Net - Armenian Prime Minister Nikol Pashinyan has not ruled out that larger batches of humanitarian aid could reach Nagorno-Karabakh on Friday, September 22.
Pashinyan made the remarks at a government meeting on Friday, adding that there was "some hope" for an improvement in the humanitarian situation in Karabakh but gave no more details.
The PM also weighed in on Yerevan's position regarding the possible transfer of Armenians from Nagorno Karabakh to the Republic of Armenia.
"Our assessment is that this will happen and can happen in the conditions when it is recorded that it is impossible for our compatriots to stay in Nagorno-Karabakh, that is, if this situation continues. Yes, we assess that this impossibility exists at the moment. In other words, if the situation does not improve, this issue will be on the agenda of all of us, but I also want to inform our public that on September 19, that is, the day of the start of operations, I gave an instruction to the Deputy Prime Minister Tigran Khachatryan to discuss with the government colleagues how, with what, where will we support our compatriots in case of a possible flow of people to the Republic of Armenia," Pashinyan said.
"I also talked about it on my air yesterday. more than 40 thousand places have been prepared. Also, we are talking about places to stay, as well as health care, food, etc. In other words, in that sense, we can record that we are ready and continue to prepare, but I want to say again that, in fact, this is position is agreed upon with the partners of Nagorno Karabakh."
The government meeting came two days after Nagorno-Karabakh agreed to a ceasefire on Azerbaijan's terms, including the dissolution of the Defense Army.