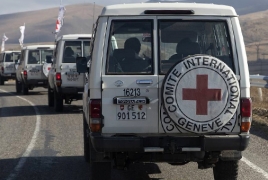 September 26, 2023 - 16:34 AMT
PanARMENIAN.Net - The EU is boosting its humanitarian funding with €5 million in response to the increasing needs resulting from the Nagorno-Karabakh crisis, the European Commission reports.
The conflict escalation and subsequent ceasefire is expected to trigger a mass exodus of people from Nagorno-Karabakh to Armenia, with approximately 13 500 refugees having crossed the border already. At the same time, there is a major food shortage and lack of access to electricity and water within the Nagorno-Karabakh enclave.
The €5 million humanitarian funding includes €500 000 of emergency support announced last week and €4.5 million new funding.
Sweden, meanwhile, will allocate 15 million SEK (around €1.3 million) to the International Committee of the Red Cross "to meet urgent humanitarian needs of Nagorno-Karabakh people including for medical transports, food and cash contributions," the country's ambassador to Yerevan Patrik Svensson said in a post on Twitter.
Additionally, the United States will provide $11.5 million in humanitarian assistance to the people of Nagorno Karabakh, USAID Administrator Samantah Power told reporters in Kornidzor, at the entrance to the Lanchin corridor.
On September 19, Azerbaijan launched a military offensive against Nagorno-Karabakh, which left hundreds of Armenians killed and thousands of others displaced. On September 20, the authorities of Nagorno-Karabakh agreed to a ceasefire on Azerbaijan's terms, including the dissolution of the Defense Army. So far, 13,550 displaced residents have already fled Nagorno-Karabakh and reached Armenia.