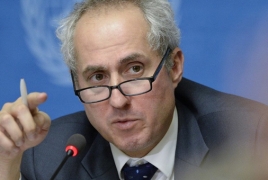 September 30, 2023 - 15:08 AMT
PanARMENIAN.Net - U.N. spokesperson Stephane Dujarric confirmed that a U.N. mission, led by a senior U.N. aid official, would travel to Nagorno-Karabakh this weekend – the world body's first access to the region in about 30 years, .
"While there the team will seek to assess the situation on the ground and identify the humanitarian needs for both people remaining and the people that are on the move," Dujarric told reporters on Friday, urging all to respect international law.
"The focus will be on humanitarian and also, as part of that, on issues of protection," he said.
"The visit will allow (the mission) to become acquainted with the current humanitarian activities being carried out by Azerbaijan in the region," the ministry said in a statement.
"In addition, the group members will be shown the process of rebuilding certain infrastructure, disarmament and confiscation of ammunition from illegal Armenian armed forces, as well as the dangers posed by mines," it said.
On September 19, Azerbaijan launched a military offensive against Nagorno-Karabakh, which left hundreds of Armenians killed and thousands of others displaced. On September 20, the authorities of Nagorno-Karabakh agreed to a ceasefire on Azerbaijan's terms, including the dissolution of the Defense Army. On September 18, President of the Republic of Artsakh Samvel Shahramanyan signed a decree, according to which the Republic of Nagorno-Karabakh (Artsakh) will cease to exist by January 1, 2024. As of September 30 morning, around 100,417 displaced residents have already fled Nagorno-Karabakh and reached Armenia.