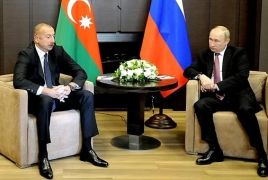 October 12, 2023 - 12:30 AMT
PanARMENIAN.Net - Russian President Vladimir Putin will meet with Azerbaijani President Ilham Aliyev on the sidelines of the Commonwealth of Independent States (CIS) summit in Bishkek to discuss the Russian peacekeeping contingent's further presence in Nagorno-Karabakh and the "peaceful integration of Armenians living in this territory into Baku's legal field", Interfax reports.
Russian presidential aide Yury Ushakov told a press briefing in Moscow on Wednesday, October 11 about the program of Putin's visit to Kyrgyzstan on October 12-13, where he will pay an official visit, as well as about a meeting of the CIS Council of Heads of State. The Russian president also has bilateral talks scheduled as part of the visit, in particular his conversation with Aliyev on Thursday.
"We attach importance to this contact. Russian-Azerbaijani relations are at a high level, rapidly developing. Naturally, the two presidents will exchange views on the prospects for further development, both in the field of economy and in the context of implementing joint initiatives in the transportation and logistics, energy and industrial spheres," Ushakov said.
"And, of course, they will discuss the situation around Karabakh. The Karabakh Armenians' peaceful integration into Azerbaijan's legal field in compliance with internationally recognized rights and freedoms is on the agenda, and the Russian peacekeeping contingent is ready to assist to this end," he said.
In this regard, the Russian peacekeepers' further activities will be discussed, he said. "It is the situation around the Russian peacekeepers, as we hope, that our president will discuss with President Aliyev. The mandate of our peacekeeping contingent expires in December 2025, and various options for the possible further use of our contingent will be considered, in particular in the context of ensuring the possible return of the Karabakh Armenians to their places of residence, which they fled after the known events in September," Ushakov said.
The "known events" Ushakov said refers to Azerbaijan's offensive of September 19 which left hundreds of Armenians killed and injured. On September 20, the authorities of Nagorno-Karabakh agreed to a ceasefire on Azerbaijan's terms, including the dissolution of the Defense Army. On September 18, President of the Republic of Artsakh Samvel Shahramanyan signed a decree, according to which the Republic of Nagorno-Karabakh (Artsakh) will cease to exist by January 1, 2024. Over 100,000 displaced residents have already fled Nagorno-Karabakh and reached Armenia.