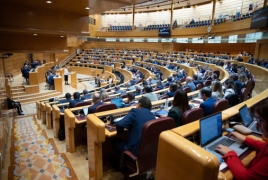 October 18, 2023 - 14:03 AMT
PanARMENIAN.Net - The Spanish Senate on Tuesday, October 17 unanimously adopted a statement condemning Azerbaijan's military offensive against the Armenian population of Nagorno-Karabakh that has resulted in the death of hundreds of Armenians and the mass displacement of thousands of people, the Armenian Embassy in Spain reports.
In the resolution, the Senate expresses its strongest condemnation of the unjustifiable military operations carried out by the Republic of Azerbaijan, which threaten regional security and stability.
The lawmakers also urge the parties to return to diplomacy and rejected the failure of the government of Azerbaijan to comply with its obligations under the ceasefire statement of November 9 and the binding orders of the International Court of Justice.
"[The Senate] demands the immediate cessation of hostilities recalling that the Government of Azerbaijan has ratified the UN Convention on the Prevention and Punishment of Genocide;
"Deplores and condemns the loss of human lives and expresses its solidarity with the Armenian population of Nagorno-Karabakh and conveys this feeling to the Armenian community residing in Spain;
"Underlines the responsibility of the Azerbaijani authorities to guarantee the rights and security of Nagorno-Karabakh and demands that they allow the entry of international observers and the arrival of humanitarian aid to the region;
'Takes note and supports the efforts of the High Representative of the European Union and the Representative for the South Caucasus considering that the European Union can and should contribute to finding a negotiated, comprehensive and lasting solution to the conflict;
"Welcomes the humanitarian contributions made by the Spanish Agency for International Cooperation (AECID) as well as those announced by the Government of Spain, encouraging additional contributions in response to the needs of the displaced population," the statement reads.
On September 19, Azerbaijan launched a military offensive against Nagorno-Karabakh, which left hundreds of Armenians killed and thousands of others displaced. On September 20, the authorities of Nagorno-Karabakh agreed to a ceasefire on Azerbaijan's terms, including the dissolution of the Defense Army. On September 18, President of the Republic of Artsakh Samvel Shahramanyan signed a decree, according to which the Republic of Nagorno-Karabakh (Artsakh) will cease to exist by January 1, 2024. Over 100,000 displaced residents have already fled Nagorno-Karabakh and reached Armenia.