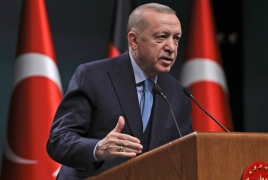 November 21, 2023 - 13:31 AMT
PanARMENIAN.Net - Turkish President Recep Tayyip Erdogan has said that Armenia should work with Turkey and Azerbaijan to build peace instead of looking to the West for weapons and training, Iran Front Page reports
Erdogan told a press conference on Monday, November 20 after a lengthy cabinet meeting in Ankara that some Western powers have yet to realize that the Karabakh War has changed the Caucasus and the entire region.
"It is better for the Armenian people and rulers to seek security in peace and cooperation with their neighbors, not thousands of kilometers away," he said
"No weapons and ammunition sent by Western countries can replace the peace that a permanent peace environment will provide," Erdogan continued, urging Armenia to "accept the hand of peace extended by our Azerbaijani brothers."
Earlier this month, Armenian deputy defense minister and chief of the general staff, Lieutenant-General Edvard Asryan, visited the US European Command HQ in Stuttgart, Germany. The visit was a "milestone" as the US and Armenia sought to "deliberately and incrementally develop our defense relationship," EUCOM said in a statement afterward.