Silicon Mountains 2021 to held in Yerevan on Nov. 19
The Silicon Mountains 2021 International Technological Summit on Digital Smart Economy will be held at Matenadaran Institute of Ancient Manuscripts in Yerevan on November 19
The event is organized by the Union of Employers of Information and Communication Technology (UEICT). Held for the second time, the summit will feature discussions on the prospects of application of smart solutions and digitization of economy.
The summit will welcome a special guest – President and co-Chief Executive Officer of Synopsys, recipient of the 2020 Global IT Award of Armenia, Dr. Chi-Foon Chan.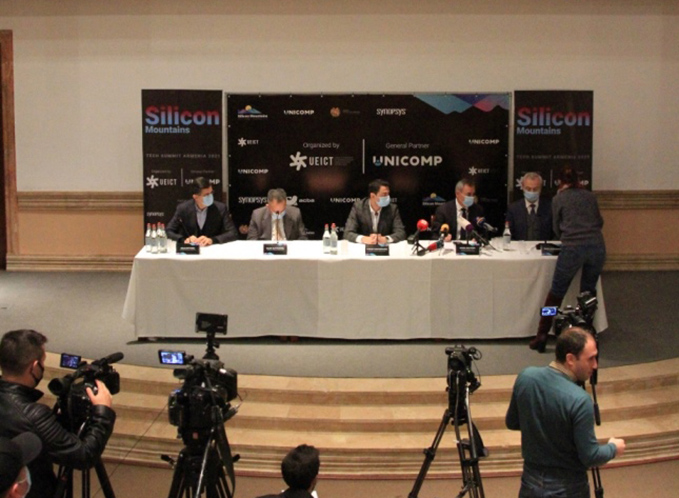 The announcement was made during the press conference at the conference hall of the Matenadaran. The press conference featured CEO at UNICOMP CJSC and President of UEICT Armen Baldryan, Executive Director of UEICT Eduard Musayelyan, Viva-MTS General Manager and UEICT Board Member Ralph Yirikian, Director of Synopsys Armenia Hovik Musayelyan and CEO of ACBA-CREDIT AGRICOLE BANK CJSC Hakob Andreasyan.
The general sponsor of the summit is UNICOMP. The event is supported by the Ministry of High-Tech Industry, Synopsys Armenia and ACBA-Credit Agricole Ban.
"This summit has a clear goal - the factor of using information technologies as a tool in different sectors of the economy, which, unfortunately, is not in a good condition in Armenia. We think that Armenian businessmen representing different sectors of the economy should take part in similar events in order to have ideas about the digitalization of the economy, as well as to find ways of cooperation with each other," said Hovik Musayelyan, Director of Synopsys Armenia, adding that Armenia was a unique Silicon Valley during the Soviet Unions and now it is necessary to restore that tradition through technological development.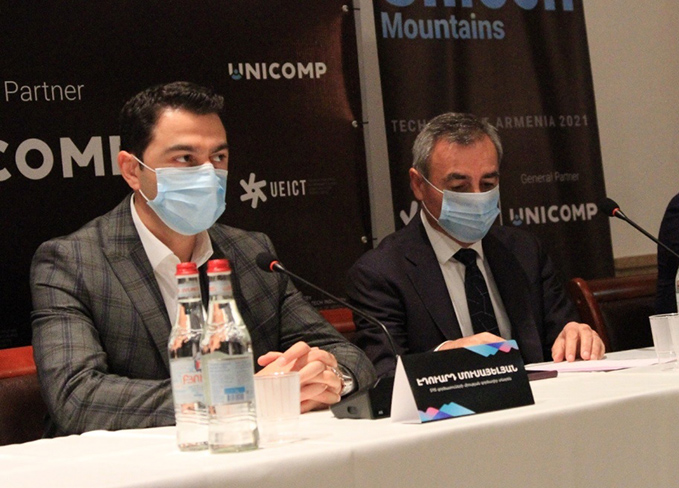 "Silicon Mountains is our adequate response to Silicon Valley, at this moment only in the form of a summit. It shows our position on where we want to be on the global technological map, showing our country as one that is offering and exporting sophisticated engineering solutions. One of the most important challenges for Armenia is to actively use and export digital solutions. We can be competitive in the world only with the existence of qualified engineers, "said Executive Director of UEICT Eduard Musayelyan.
"The summit includes meetings of business leaders and an open discussion. The leaders of the companies will present their experience and plans by becoming an example for other businesses. Today, there are areas that have little to do with modern technology and do not have all the information needed for development. It is necessary to provide this information as soon as possible so that businesses remain competitive in the international market," noted Armen Baldryan, CEO at UNICOMP CJSC and President of UEICT.
"We need to think about the digital future of our country and about having a digital economy. It should be understood how the business environment should develop on the way to a digital economy. We need to start thinking about creation and export of new products and services," said Hakob Andreasyan, CEO of ACBA-CREDIT AGRICOLE BANK CJSC.
"The RA State Prize for Global Investment in IT is timed to coincide with the Silicon Mountains 21 summit. One of the outstanding personalities and living legends of today, who will visit our country, will significantly attract the attention of young people to the summit, at which the state, companies, and specialists will discuss the digital agenda of Armenia and issues related to the future. We all have a lot to do together. We must encourage innovative thinking, we must strengthen the faith of young people in their strengths and abilities. Today, more than ever, we need to introduce our own path of productivity culture and system of values of day and night work, and not follow someone else's footsteps," Viva-MTS General Manager Ralph Yirikian said.