PanARMENIAN.Net - Peru's environmental agency is investigating the deaths of some 10,000 frogs whose bodies have been found in a river in the south of the country. According to a BBC report, a campaign group says pollution in the River Coata is to blame for the deaths. It says the government has ignored pleas for the construction of a sewage treatment plant in the area.
The Titicaca water frog is an endangered species that is found only in the huge freshwater lake shared by Peru and Bolivia and its tributaries.
The cases of mass deaths across the world are not rare. And here are some of them:
Southern blackbirds
On December 31, 2010, about 2,000 red-winged blackbirds fell dead out of the sky over a small town in Arkansas, U.S. There were so many that it took workers two days to remove all the birds' carcasses from the town's streets, sidewalks and lawns. The deaths were all the more mysterious because the birds in question don't normally fly at night. So, they should have been asleep in their roost. None of the dead birds were found on the ground of the wooded area where they roosted, so officials ruled out disease or poisoning as the cause of their deaths, reports said. Instead, it was assumed a weather-related event caused the mysterious mass die-off. Despite that assumption, however, workers cleaning up the birds' carcasses wore environmental-protection suits just in case.
Bats with white-nose syndrome
An estimated 6.7 million bats have died since 2006 because of an outbreak of white-nose syndrome, a fast-moving disease that has wiped out entire colonies and left caves littered with the bones of dead bats. The epidemic is considered the worst wildlife disease outbreak in North American history and shows no signs of slowing down. It threatens to drive some bats extinct and could do real harm to the pest-killing services that bats provide, worth billions of dollars each year, in the United States. Typically the disease kills 70 percent to 90 percent of bats in an affected hibernaculum (the area where bats gather to hibernate for the winter). In some cases, the mortality rate has been 100 percent, wiping out entire colonies. Some caves that once hosted hundreds of thousands of bats are now virtually empty.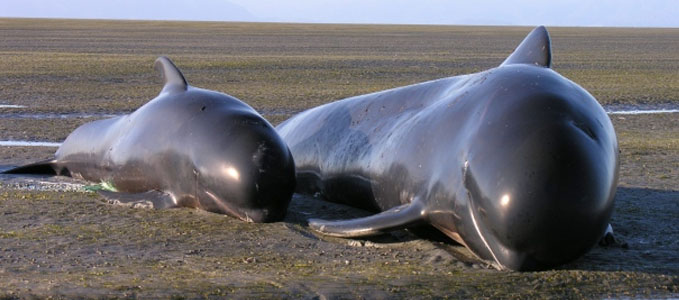 Pilot whales
In late 2008, 60 pilot whales beached themselves along the rocky coast of the southern Australian island state of Tasmania. A week later, 150 long-finned pilot whales did the same. Then, in early January 2009, 45 sperm whales perished when they stranded themselves on a Tasmanian sandbar. And, lastly, in the most egregious in the string of incidents, 194 pilot whales and a handful of bottleneck dolphins beached themselves along the same coastline in March. By the time officials arrived at the scene, 140 were dead. Using stretchers, small boats and jet skis, more than 100 volunteers managed to save 54. But with four beaching incidents in as many months, scientists found themselves at a loss to explain why the majestic mammals had gone ashore.
Pink flamingos
Over 50 pink flamingos have been found dead in southern France, victims of freezing weather conditions that have gripped Europe in February 2012. The birds succumbed to the cold after being trapped in the frozen water and left unable to fly away. Rescuers were able to save several weakened flamingos and send them to a bird park.
Hippopotamuses
In 2004, an estimated 300 hippopotamuses in Uganda's Queen Elizabeth National Park died after drinking water contaminated with anthrax. The lethal bacteria can frequently be found in the pools of stagnant water that form during Uganda's dry season. The country has suffered from occasional anthrax outbreaks since the 1950s and because of their semiaquatic nature, hippos are particularly vulnerable to contamination.
Magellan Penguins
In July 2010, for example, about 500 dead Magellan Penguins washed up on the shores of Brazil over the course of just 10 days. Autopsies on the animals revealed that their stomachs were entirely empty, indicating that they likely starved to death.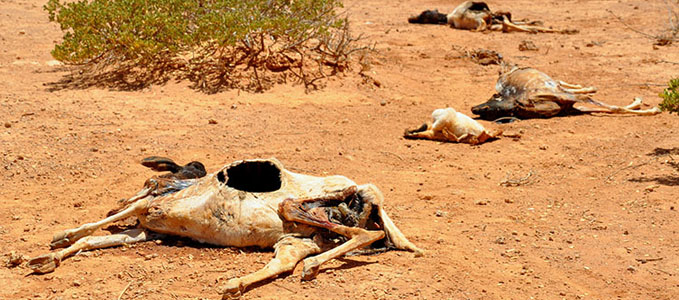 Livestock
In early 2010, a bitterly cold and snowy winter followed a summer drought, preventing many species in Mongolia from grazing adequately. The disaster resulted in the deaths of millions of camels, goats, sheep, cows, yaks and horses.
Saiga antelopes
In May 2015, 60,000 saiga antelopes died in just four days, and no one really knows why. Saiga - a species of dog-sized antelope with Gonzo-like noses, native to central Asia - are critically endangered. Saigas live in a few herds in Kazakhstan, one small herd in Russia and a herd in Mongolia. The herds congregate with other herds during the cold winters, as well as when they migrate to other parts of Kazakhstan, during the fall and spring. The herds split up to calve their young during the late spring and early summer.
Piglets
In May 2013, a virus never before seen in the U.S., called porcine epidemic diarrhea, quickly spread to 27 states and claimed the lives of six million piglets in less than a year. Scientists think the virus, which does not infect humans or other animals, came from China, but it's unclear how it got into the country and wiped out at least three percent of the nation's pig herd.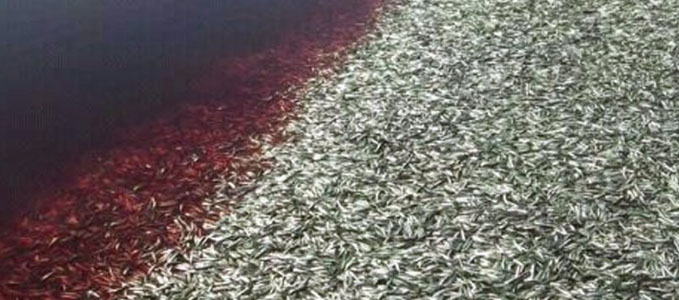 Sardines
In March 2011, boaters awakened to find millions of dead anchovies and sardines washed up around their vessels in a Southern California marina. The fish were so thick in some places that boats couldn't get out of the marina.
Turtles
In late 2005 and January 2006, 200 endangered sea turtles were found dead along beaches on the coast of El Salvador. Scientists' best guess at to the cause of this mysterious die-off is that the turtles fell victim to harmful algal blooms, known as a red tide.
Brown Pelicans
In January 2009, hundreds of Brown Pelicans were found dead or acting peculiar along the California coast. Though researchers were unclear as to what exactly triggered the birds' illness, the mysterious mass die-off may have been due to unseasonable weather patterns that threw off the Pelicans' eating habits.