PanARMENIAN.Net - In 1865, Everest was given its official English name by the Royal Geographical Society upon a recommendation by Andrew Waugh, the British Surveyor General of India. As there appeared to be several different local names, Waugh chose to name the mountain after his predecessor in the post, Sir George Everest, despite George Everest's objections.
Mount Everest attracts many climbers; some of them highly experienced mountaineers. There are two main climbing routes: one approaching the summit from the southeast in Nepal (known as the standard route) and the other from the north in Tibet, China.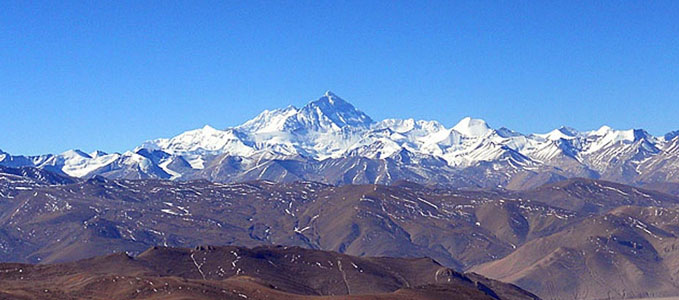 The typical cost when climbing the Everest with a Western agency is $45,000 and above. Expeditions are the primary source of income for Nepal, and licenses to ascend start at around $25,000. If you have lesser experience and want to ascend with an experienced company, several companies will lead you to the top with a team of sherpas (ethnic group) starting around $40,000 per person.
On May 29, 1953, Edmund Hillary and Tenzing Norgay completed the first confirmed ascent of Mount Everest, which stands 29,035 feet above sea level. Though the two mountaineers spent only about 15 minutes on the snow-covered summit, they managed to snap a few photos, share a celebratory hug and eat a bar of mint cake—an early version of today's energy bars. Tenzing, a Nepalese Sherpa, also left some of the sweets as a Buddhist offering, and Hillary, a beekeeper from New Zealand, placed a cross nearby.
Since then, the mountain has been summited more than 7,000 times by more than 4,000 people, some of whom never returned home, dying halfway and serving as landmarks for the other climbers.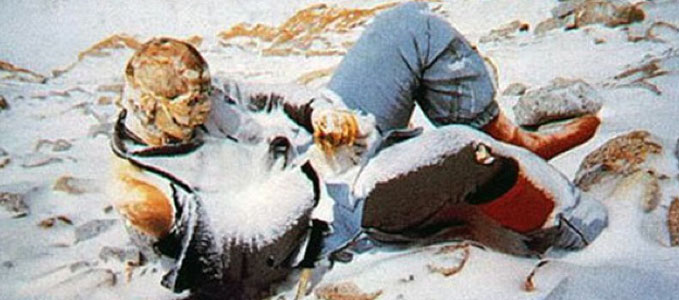 "Climbing Everest looks like a big joke today," Captain MS Kohli, a mountaineer who in 1965 led India's first successful expedition to summit Mount Everest, told the BBC. "It absolutely does not resemble the old days when there were adventures, challenges and exploration. It's just physically going up with the help of others."
About 240 people have died attempting to climb Mount Everest. Avalanches, rockslides, blizzards, falls, altitude sickness, freezing temperatures, exhaustion and combinations thereof have all proven fatal, particularly in the so-called "death zone" above 7924,8 meters. Since getting them down is grueling and dangerous, most of the corpses remain up there. They are well preserved in the snow and apparently serve as trail markers for climbers who pass by. Everest's deadliest day occurred in May 1996, when eight people perished in a storm. Yet that incident, made famous by Jon Krakauer's book "Into Thin Air," did nothing to stem the tide of people willing to shell out tens of thousands of dollars for a chance to conquer Earth's highest mountain.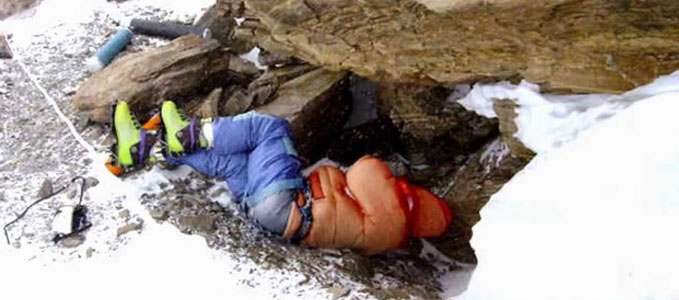 Probably the most famous of all are the remains of Tsewang Paljor, a young Indian climber who lost his life in the infamous 1996 blizzard. For nearly 20 years, Paljor's body – popularly known as Green Boots, for the neon footwear he was wearing when he died – has rested near the summit of Everest's north side. When snow cover is light, climbers have had to step over Paljor's extended legs on their way to and from the peak.
One of the more storied climbers that met his fate on Everest was George Mallory, a famous English Mountaineer. In 1924, Mallory fell to his death during a storm while attempting to be the first to reach the summit of Everest. His body was discovered in 1999 during the Mallory and Irvine Research Expedition. Decades earlier, Chinese climbers had reported seeing a "European body" lying face down on a shelf off the main trail. Given the description and the date of the find, experts had always assumed it was the body of Andrew Irvine, a fellow English Mountaineer who had attempted the ascent of Everest with Mallory, and perished in the same storm.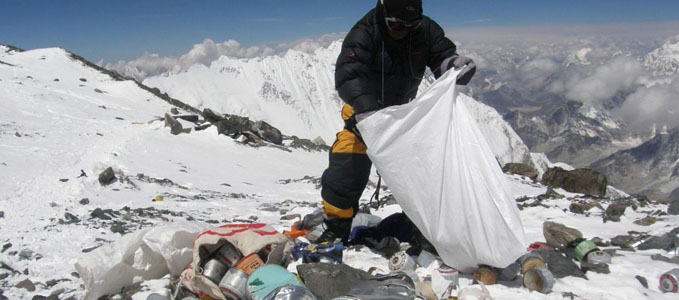 Meanwhile, people continue climbing the mount, leaving behind a trail of garbage and human waste. According to history.com, empty oxygen bottles, human excrement, food packaging, broken climbing gear and torn tents continue to spoil the environment of the mountain once called "the highest junkyard on the face of the Earth." A single cleanup in spring 2011 removed over 8 tons of trash from Everest, and many more tons remain uncollected. In order to counteract the problem, Nepal's government now requires climbers to bring back all of their equipment or risk losing a $4,000 deposit. New trash bins and a waste incinerator have also recently been installed near the mountain.
Climbers must decide for themselves if their passion is worth potentially losing their lives. "On my own volition, I accept the risk and suffering, and that there is no external benefit to society," the BBC quotes Conrad Anker, a mountaineer, author and leader of the North Face climbing team, as saying. "But as long as one is clear and transparent with your family and wife, then I don't think it's morally incorrect."