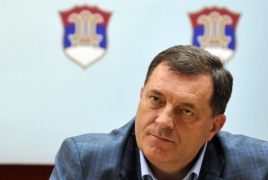 April 23, 2015 - 11:34 AMT
PanARMENIAN.Net - Turkey on Wednesday, April 22, stopped Bosnian Serb leader Milorad Dodik's plane from flying over its territory, preventing him from attending a ceremony to mark the centenary of the Armenian Genocide, his cabinet said, according to AFP.
"Although all authorizations for this flight had been initially obtained, Turkish authorities did not allow the flight over their territory," Dodik's cabinet said in a statement.
The plane carrying the president of Republika Srpska, a Serb-run entity of Bosnia, returned to his capital Banja Luka after spending four and a half hours at an airport in eastern Bulgaria, waiting in vain for authorization to fly over Turkish territory, the statement said.
But Turkey hit back, saying the allegations did "not reflect reality" and accusing Dodik's entourage of failing to follow procedure by not asking for overflight permission through "diplomatic channels".
"There was never a question of any kind of refusal," the foreign ministry said in a statement. "Overflight authorization to travel to Yerevan will naturally be given to Dodik if he so requests."
French President Francois Hollande and his Russian counterpart Vladimir Putin are among those expected to attend Friday's ceremonies.
Earlier this month Dodik submitted to the Republika Srpska's parliament a declaration recognizing the massacres as a genocide.
The legislative body will likely adopt the declaration in the coming days, although Bosnian Muslim political leaders, who view Turkey as their main international ally, have criticized the initiative.