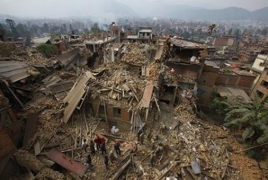 April 27, 2015 - 08:32 AMT
PanARMENIAN.Net - The death toll from Nepal's earthquake rose to 3,218 on Monday, April 27, two days after the massive quake ripped across this Himalayan nation, leaving tens of thousands shell-shocked and sleeping in streets, the Associated Press reports.
Aid groups received the first word from remote mountain villages — reports that suggested many communities perched on mountainsides were devastated or struggling to cope.
Landslides hindered rescue teams that tried to use mountain trails to reach those in need, said Prakash Subedi, chief district official in the Gorkha region, where the quake was centered.
Saturday's magnitude 7.8 earthquake spread horror from Kathmandu to small villages and to the slopes of Mount Everest, triggering an avalanche that buried part of the base camp packed with foreign climbers preparing to make their summit attempts. At least 18 people died there and 61 were injured.
Deputy Inspector General of Police Komal Singh Bam said Monday that the death toll had risen to 3,218 people but he gave no further details. So far 18 people have also been confirmed dead in an avalanche that swept through the Mount Everest base camp in the wake of the earthquake. Another 61 people were killed in neighboring India. China reported that 20 people had died in Tibet.
Kathmandu district chief administrator Ek Narayan Aryal said tents and water were being handed out Monday at 10 locations in Kathmandu, but that aftershocks were leaving everyone jittery.
"There have been nearly 100 earthquakes and aftershocks, which is making rescue work difficult. Even the rescuers are scared and running because of them," the AP quoted him as saying.
The earthquake was the worst to hit the South Asian nation in more than 80 years. It destroyed swaths of the oldest neighborhoods of Kathmandu and was strong enough to be felt all across parts of India, Bangladesh, China's region of Tibet and Pakistan.