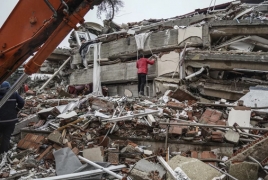 February 9, 2023 - 13:29 AMT
PanARMENIAN.Net - The death toll from earthquakes that struck Turkey and Syria this week passed 15,000 on Thursday, February 9 amid anger from those left destitute and frustrated over the slow arrival of rescue teams, Reuters reports.
Turkish President Tayyip Erdogan, who contests an election in May, said on a visit to the disaster zone on Wednesday that operations were now working normally and promised no one would be left homeless.
Across a swathe of southern Turkey, people sought temporary shelter and food in freezing winter weather, and waited in anguish by piles of rubble where family and friends might still lie buried.
The confirmed death toll in Turkey rose to 12,391 by Thursday morning, the Disaster Management Authority said, up more than 30% on Wednesday's toll.
Rescuers were still finding some people alive. But many Turks have complained of a lack of equipment, expertise and support to rescue those trapped - sometimes even as they could hear cries for help.
"Where is the state? Where have they been for two days? We are begging them. Let us do it, we can get them out," Sabiha Alinak said on Wednesday near a snow-covered collapsed building in the city of Malatya where her young relatives were trapped.
There were similar scenes and complaints in neighbouring Syria, whose north was hard hit by Monday's huge quake and where the death toll had climbed to at least 2,950 by Wednesday, according to the government and a rescue service operating in the rebel-held northwest.
Syria's ambassador to the United Nations admitted the government had a "lack of capabilities and lack of equipment," blaming more than a decade of civil war in his country and Western sanctions.
The death toll from both countries was expected to rise as hundreds of collapsed buildings in many cities have become tombs for people who had been asleep when the quake hit.