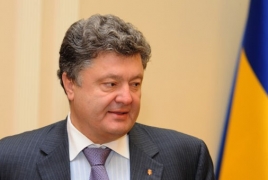 April 27, 2015 - 08:57 AMT
PanARMENIAN.Net - Ukraine will press European leaders for peacekeepers to patrol its war-torn east and will angle for more international financial support at two days of high-level talks starting Monday, April 27, AFP reports.
Its pro-Western President Petro Poroshenko called on EU leaders to "provide powerful signals in support of Ukraine and its European integration in the course of the summit".
Poroshenko is to meet with leaders, including the head of the European Commission Jean-Claude Juncker, at a summit on Monday and with other international officials the day after at a conference showcasing cash-strapped Ukraine's economic reforms.
Ukraine will nudge its allies to send peacekeepers to the east where its army is fighting pro-Russian separatists -- a move the EU is reluctant to make, AFP says.
"The parties have agreed to continue coordination in the international arena regarding the opportunity of deploying a mission under the auspices of the EU in order to facilitate a peaceful settlement," Poroshenko's office said in a statement.
The conflict between government troops and pro-Russian forces has killed more than 6,000 people in the past year and displaced more than a million, according to the United Nations.
Despite a ceasefire deal, European OSCE observers say there are still exchanges of artillery fire at the front.
The EU-Ukraine summit is the first since their "association agreement" came into force last year after the ouster of Ukraine's pro-Russian former president Viktor Yanukovych.
In return for support under the agreement, the EU is demanding reforms to clean up Ukrainian politics and business.
"The focus of the summit will be on the reform challenges," said an EU official who asked not to be named, according to AFP.
Among measures taken in recent months, Kiev has launched a new anti-corruption body and passed laws to clean up its banks.
"The test is in the real implementation, the changes in real life for people" that the reforms bring, the official said.
Regarding peacekeepers, "the EU has received letters requesting a mission," the official said. "We are studying these proposals in detail," he said, but added that the EU saw "no reason" to replace the OSCE monitors currently monitoring the ceasefire.
On Tuesday, Ukrainian leaders will showcase their economic reforms to foreign governments.
Brussels last week announced a fresh payment of 250 million euros ($267 million) in loans, bringing its total rescue package for Ukraine's battered economy to 1.6 billion euros.
Poroshenko said on Friday that international donors had promised $2.0 billion in further investment to help rebuild the war-torn eastern Donbas region.