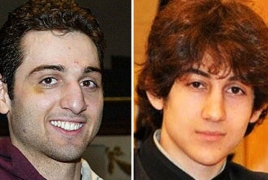 April 27, 2015 - 19:50 AMT
PanARMENIAN.Net - A lawyer for Boston Marathon bomber Dzhokhar Tsarnaev urged a jury Monday, April 27, to spare the young man's life, portraying him as "a good kid" who was led astray by his belligerent older brother, the Associated Press reports.
David Bruck delivered the defense's opening statement in the penalty phase of Tsarnaev's trial, saying there is no punishment Tsarnaev can get that would be equal to the suffering of the victims.
"There is no evening the scales," Bruck said. "There is no point in trying to hurt him as he hurt because it can't be done."
Tsarnaev, 21, was convicted of 30 federal charges in the twin bombings that killed three spectators and wounded more than 260 other people near the marathon's finish line on April 15, 2013. He was also convicted of killing an MIT police officer during the Tsarnaev brothers' getaway attempt.
This stage will determine whether he is executed or spends the rest of his life behind bars.
Bruck focused heavily on Tsarnaev's now-dead brother, Tamerlan, saying he led the plot and provided the "fuel" to drive the plan. At one point, Bruck referred to Dzhokhar as "Tamerlan Tsarnaev's younger brother."
Bruck contrasted Tamerlan with Dzhokhar, saying Tamerlan was loud and aggressive, got into fights, failed at everything he did and never held a steady job, while Dzhokhar was a good student, was loved by his teachers, had many friends and never got in a fight.
"He was a good kid," the lawyer said, according to the AP.
Tsarnaev was a 19-year-old college student at the time of the bombing. His brother, 26, was killed days later during the getaway attempt.
The prosecution made its case in the penalty phase last week, calling victims and family members to the stand to recall the blood, the screams and the terror of the attack and the pain and grief it continues to inflict.
Prosecutors portrayed Tsarnaev as an unrepentant killer who gave finger to the security camera in his jail cell three months after his arrest.