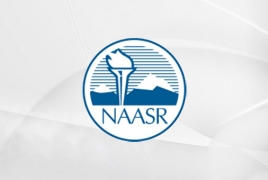 May 7, 2015 - 09:59 AMT
PanARMENIAN.Net - The National Association for Armenian Studies and Research (NAASR) recently announced the creation of the Dr. Sona Aronian Book Prizes for Excellence in Armenian Studies. The prizes will be awarded annually to an outstanding scholarly monograph in the English language in the field of Armenian studies and, in alternating years, to a translation from Armenian into English of a work of literature or of an academic book within the field of Armenian studies, the Armenian Weekly reports.
The prizes were established through the generosity of Dr. Aronian, and the first awards, for works published in 2014, will be announced in fall 2015.
"We are thrilled that Dr. Aronian, a scholar and a longtime member of NAASR, has established these prizes that will provide encouragement to scholars," said NAASR Academic Director Marc A. Mamigonian.
Aronian is Professor Emerita of Russian, Comparative Literature, and Women's Studies at the University of Rhode Island. She has a B.A. in comparative literature from Boston University and a Ph.D. in Slavic languages and literatures from Yale. She has taught at the University of Pittsburgh, the University of Pennsylvania, and at the University of Rhode Island, where she established and directed the program in Russian studies and participated in the creation of the comparative literature and women's studies programs. She has done archival research in Moscow, St. Petersburg, Prague, and Paris on the Russian modernist writer Alexei Remizov with the support of grants from the International Research and Exchanges Board (IREX). Aronian served as contributing editor of a two-volume set of the Russian Literature Triquarterly devoted to the life and works of Remizov as well as a separate volume of his Selected Prose. She has also presented papers on Remizov at several international conferences in the United States and in Russia. In retirement she has become engrossed in the study of the Armenian language, literature, and culture, and the book prizes are her symbolic participation in the advancement of Armenian studies.