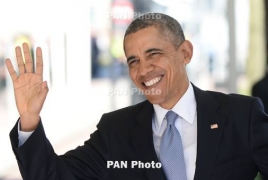 May 13, 2015 - 21:50 AMT
PanARMENIAN.Net - President Barack Obama, without revealing any of the underlying tension between the United States and Saudi Arabia, welcomed two officials from the Gulf kingdom on Wednesday, May 13, to the White House, declaring the relationship between the two countries strong, CNN reports.
"The United States and Saudi Arabia have an extraordinary relationship and friendship that dates back to Franklin Roosevelt," Obama said at the beginning of his meeting in the Oval Office with Saudi Arabia's Crown Prince Mohammed bin Nayef and Deputy Crown Prince Mohammed bin Salman.
The meeting was originally scheduled between Obama and Saudi King Salman, who over the weekend withdrew his RSVP for this week's summit of Gulf leaders. Some experts declared the change in plans a snub to the White House, meant to convey Saudi displeasure at various administration policies, including nuclear talks with Iran.
But both U.S. administration officials and Saudi government aides said there was no snub intended, and in his office Wednesday Obama declared the bonds between the countries strong.
Saudi Arabia "has been absolutely critical not only to maintaining stability in the region but also protecting the American people," he said.
He said he planned to discuss with the Saudi officials the ongoing unrest in Yemen, where a brief ceasefire appears to be holding after violence erupted between Shi'ite rebels and pro-government forces. Saudi Arabia led an air campaign to beat back the Houthi rebels, which are believed to be controlled partly by Iran, Saudi's regional rival.