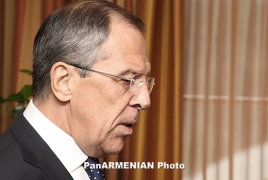 July 2, 2015 - 16:59 AMT
PanARMENIAN.Net - Protest rallies in Armenia that launched following the electricity tariff hike ruling are purely economic in nature, though striven to be politicized by some, Russian Foreign Minister Sergei Lavrov said.
"Some are tempted to use the protest rallies to escalate anti-government moods, despite their actual agenda. Still, someone must be trying to benefit from these developments in trying to politicize them," the official said, according to Russian media.
Electric Networks of Armenia (ENA) submitted a bid to the Public Services Regulatory Commission (PSRC) demanding to raise energy price by AMD 17 ($0.036). During the June 17 session, PSRC partially satisfied the bid raising the tariffs to AMD 6,93 ($0.0146) from August 1, causing major public outrage.
On June 19, members of the initiative "No to Plunder" started a sit-in protest at Freedom Square. On June 22, demonstrators headed towards the presidential headquarters on Baghramyan Avenue. The police, however, blocked the part of the street on the way to the President's residence. The rally participants decided to continue the protest right in front of the police cordons. After a 10-hour sit-in, the police called on the demonstrators to leave the area, using water cannons to disperse the protesters.
Not only protesters but also journalists and operators covering the rally were subjected to the police violence: 237 people were detained and released later. The attitude of the police enraged the public: thousands gathered at Baghramyan Avenue demanding to cancel the Commission's decision on energy price hike. Countless demonstrators spent several nights at the campaign venue.
Armenian President Serzh Sargsyan issued a statement on June 27 informing that an audit will be conducted at ENA, with the government to cover the costs of the tariff hike. He called on the protesters to clear the Avenue, but the demonstrators stayed put. After a discussion with picketers, "No to Plunder" coordinating group members decided to continue the protest at Freedom Square. Many demonstrators, however, disagreed. Thus, some of the protesters moved to Freedom Square, while the majority remained on Baghramyan Avenue, determined to go on until the Commission's decision is cancelled, rather than suspended.