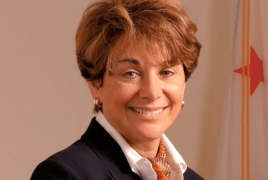 July 10, 2015 - 09:10 AMT
PanARMENIAN.Net - Representatives Anna Eshoo (D-CA) and Jackie Speier (D-CA) – the two U.S. Representatives of Armenian heritage – have called for a vote on the Armenian Genocide Truth + Justice Resolution, a bipartisan genocide-prevention measure they describe as "a principled and practical approach to fostering improved relations between Turkey and Armenia," reported the Armenian National Committee of America (ANCA).
In a letter to Rep. Ed Royce (R-CA), the Chairman of the Foreign Affairs Committee, and Rep. Eliot Engel, Ranking Member of this panel, Reps. Speier and Eshoo noted that they had recently traveled to Armenia as part of the U.S. Presidential Delegation for the April 24th Centennial. Stressing their unique role as "the only Members of the U.S. House of Representatives of Armenian heritage, descendants of survivors of the Armenian Genocide," they called on the Committee leadership to hold a hearing and vote in the Foreign Affairs Committee on H.Res.154, the Armenian Genocide Truth and Justice Resolution before the August District work period.
H.Res.154, a bipartisan measure spearheaded by Congressional Armenian Caucus Co-Chairman Robert Dold (R-IL), Representatives Adam Schiff (D-CA) and David Valadao (R-CA), and Armenian Caucus Co-Chairman Frank Pallone (D-NJ), has over 60 cosponsors. It builds upon the substantial record of U.S. recognition of the Armenian Genocide by calling upon the President work toward improved Armenian-Turkish relations based upon the Republic of Turkey's full acknowledgement of the facts and ongoing consequences of the Armenian Genocide, and a fair, just, and comprehensive international resolution of this crime.