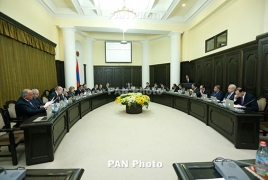 July 30, 2015 - 15:16 AMT
PanARMENIAN.Net - The Armenian government decided Thursday, July 30, to limit all the inspections carried out by the relevant bodies by January 1, 2016, with the exception of tax and customs agencies' control, Tert.am reports.
The Minister-Chief of Government Staff, Davit Harutyunyan, introduced the draft decision to the government, stating that checklists will be filled in, limiting the activities of inspection authorities.
Harutyunyan also said that inspection bodies currently apply around 170 checklists. 70% of them will be suspended and the inspections will reduce by 90% by the end of 2015.
The limitations on inspections do not apply to state-owned enterprises and joint stock companies, state or community non-profit organizations, as they are not involved in the economic output process.