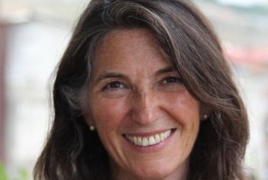 August 7, 2015 - 08:39 AMT
PanARMENIAN.Net - Writer Dana Walrath's young-adult novel, "Like Water on Stone", which takes place during the Armenian Genocide, is one of six finalists for the 2015 Vermont Book Award, hosted by the Vermont College of Fine Arts, Montpelier, U.S., the Armenian Weekly reports.
"Like Water on Stone" is an intense survival story of three siblings caught up in the horrific events of the Armenian Genocide of 1915. Beyond Anatolia, in the Armenian Highlands, Shahen Donabedian dreams of going to New York. Sosi, his twin sister, never wants to leave her home, especially now that she is in love. At first, only Papa, who counts Turks and Kurds among his closest friends, stands in Shahen's way. But when the Ottoman pashas set their plans to eliminate all Armenians in motion, neither twin has a choice.
After a horrifying attack leaves them orphaned, Shahen and Sosi flee into the mountains, carrying their little sister, Mariam. Shahen keeps their parents' fate a secret from his sisters. But the children are not alone. An eagle named Ardziv watches over them as they run at night and hide each day, making their way across mountain ridges and rivers red with blood.
The Vermont Book Award was created to honor artists with deep connections to the state of Vermont, and to draw attention to a state so uniquely suited for creative enterprise. To be considered for the prize, a book has to be penned by a Vermont author, or take place in Vermont, or be published by a Vermont press. While there will only be one winner, books from the following categories are considered for the award: poetry, fiction, creative non-fiction, and children's literature.
Judges looked at nearly 50 books before narrowing down to the six finalists below. The winner will be announced in September, and will be awarded a prize of $5,000.
After years of using stories to teach medical students at the University of Vermont's College of Medicine, Walrath spent 2012-13 as a Fulbright Scholar in Armenia, where she drew and wrote stories about aging in the ancient culture. Her graphic memoir, "Aliceheimer's", blends the story of life with her mother Alice, before and during dementia, with stories from Armenia.
"Like Water on Stone" is her first novel.