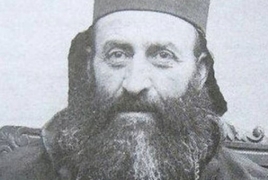 August 31, 2015 - 18:19 AMT
PanARMENIAN.Net - Bishop Michael Melki, a Syrian Catholic cleric martyred during the 1915 Armenian Genocide for refusing to convert to Islam, has been beatified, accoridng to Catholic Herald.
Bishop Melki was beatified at a monastery in Lebanon on Saturday, August 30 the centenary of his martyrdom. On Sunday Pope Francis told the faithful in St Peter's Square that "In the context of a terrible persecution of Christians, [Melki] was a tireless defender of the rights of his people, urging all to remain firm in their faith.
Flavianus Michael Melki was born in 1858 and went on to be an Eastern Catholic prelate of the Brothers of Saint Ephrem, and later the Syrian Catholic eparch of Gazarta, where he was killed.
He lived in extreme poverty as a priest and sold his vestments to help the poor. In the summer of 1915, with the Armenian and Assyrian Genocides in full swing, the Ottoman authorities arrested him along with the Chaldean bishop. Both were killed for refusing to renounce their faith and convert to Islam, and Bishop Melki was tortured to death and decapitated.
On August 8 Pope Francis confirmed his beatification saying he was killed in hatred of the faith.